Are you on the market for some new woodworking in your home? Maybe you have a DIY project that you started and didn't have the time or expertise to complete. Or maybe you've been dreaming about this project for what feels like forever at this point and it is finally time to pull the trigger. No matter what your reason is for deciding to hire a carpenter, DuraPro Painting has the right carpenter in Minneapolis for your project.
However, we want to make sure that you are definitively getting the right carpenter for your project, so here are five tips on how to choose a carpenter!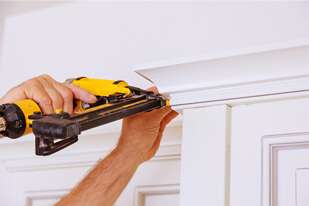 1. Find a Carpenter with the Right Specialty
Each carpentry project has its own specialty, meaning that you should always be on the lookout for a carpenter that can handle that specific work. A carpenter should have experience with similar projects and possess the skills required to complete the work you are looking to have done.
Take the time to explain to your carpenter the work you want to have done and ask them for samples of their previous work to ensure that they are up to the task!
2. Check their Reviews
Another crucial step to finding the right carpenter is checking their reviews and testimonials. If the carpenter you decide on hiring has bad or no reviews, that should be a red flag. Testimonials and reviews are often featured on a carpenter's website or available if you ask.
It's important that you always make sure that others have had a good experience with a carpenter before you fully make your decision. An inexperienced or unprofessional carpenter could cause plenty of unwanted headaches.
3. Interview Your Carpenter
Before making the final decision on who to hire, it is always a good idea to interview your carpenter of choice. Ask them about their expected costs, timeline, qualifications, previous experience and any other question that you can think up. The more questions you ask, the more information you know going into the process.
4. Make Sure to Compare Rates and Timelines
Even if you think you have found the perfect carpenter from one quick interview, it is always recommended that you compare a few rates before making a final decision. Without comparing their rates to those of their competitors, it can be hard to know if you are getting the most bang for your buck.
5. Confirm Your Carpenter is Living Up to Your Standards
Finally, once you've chosen a carpenter, make sure throughout the process that they are living up to your expectations. If they aren't, talk to them – or consider hiring a different carpenter to complete the job.
When you choose DuraPro Painting as your carpenter, you can rest easy knowing we will live up to your standards. Are you ready to hire the best carpenter in Minneapolis? Call DuraPro Painting today at 612-701-6552 or contact us!