Fall is undoubtedly the best time of year to tackle home improvement projects. It comes before the holidays and winter when homeowners begin buckling down the hatches. It's the perfect time to finish things up before a long season indoors. And, if you're like many of us who've already been spending a lot of time indoors, then you've likely noticed some areas that could use some work. So, which projects are you going to tackle first? As the trusted carpenter for Maple Grove and the surrounding areas, we have put together our top home improvement ideas for fall: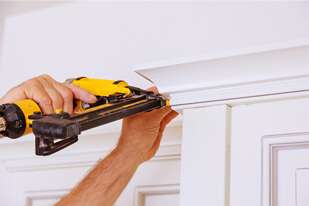 Painting and repairing interior molding and trim. When was the last time you took a look at your home's molding or trim? Are there areas you've been meaning to fix, replace or paint? Repairing and painting molding or trim can completely transform a room, especially when you pair a crisp white trim with a rich wall color. And, in order to get it looking just right, it is important to hire a professional for this project. Not only will they be able to finish the job faster, an experienced carpenter and painter will make sure there are no uneven edges or finishes.
Wood repairs. Following the heat and humidity of summer, now tends to be a good time to tackle wood repair on window frames, decks, pergolas, porches and more. When wood becomes damaged or has wet rot or dry rot on your home, there is a potential for damage to compound. That is why it is so important to have any issues taken care of as soon as possible and by a trusted professional carpenter. They'll do a thorough inspection and remove and repair both the wood you can see and the wood you can't.
Paint and repair the front door. There is nothing that enhances curb appeal quite like the front door, especially if it's perfectly executed. A bright and bold or sleek and clean front door gives a home fantastic appeal and a perfectly repaired door and its trim offers a polished finish. Fall is a good time for exterior projects like this especially before the weather turns icy and wet so schedule yours today!
Paint your home's exterior. While you're repairing the front door, why not take care of the rest of the curb appeal as well? Fall is a great time to paint your exterior to protect it for this winter and many more winters to come. A fresh coat of paint will seal all the exterior surfaces from the cold and wet season. Wood graining and plank siding will be protected with paint coating.
These are just some of the great fall projects our carpenter and painter can help tackle! When you need a master carpenter in Maple Grove or the surrounding areas, don't hesitate to call DuraPro Painting! You can reach us at (612) 701-6552 or contact us for a Free Estimate.